Selling Your Farm Or Ranch?
Want To Save Taxes And Generate Reliable Passive Income?
We help you make smart decisions with your money so you can preserve your wealth, generate more income for retirement and maximize inheritance for your heirs.
Contact Us For A Free Consultation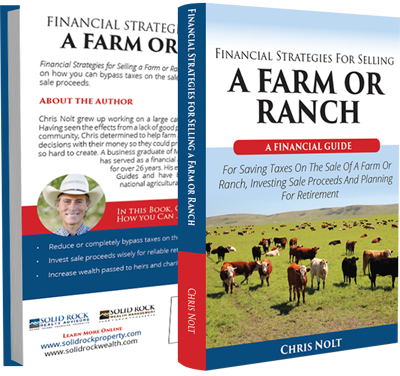 FINANCIAL STRATEGIES FOR SELLING A FARM OR RANCH
Financial Strategies For Selling A Farm Or Ranch provides expert guidance on how you can save taxes on the sale of a farm or ranch, invest proceeds from the sale and plan for retirement.
Available On Amazon.com
We help you use the 1031 exchange to defer the tax on the sale of your land and transition into solid income producing real estate investments.
Learn About 1031 Exchange
When our Montana ranch was for sale in 2010, Chris approached us with the idea of doing a 1031 exchange into office buildings leased to the federal government. Our property sold the beginning of 2011 and we purchased two federal buildings, one in Montana and one in Colorado. We couldn't be happier with how things turned out for us. Here we are six years later and the buildings have worked out just the way they were supposed to. If you want to save taxes on the sale of your ranch and generate reliable passive income, I recommend you give Chris a call.
Doug Stevenson, Montana Rancher
More Testimonials
For a free consultation, call us at 800-517-1031 or
complete the form below.
Solid Rock Realty Advisors, LLC.
Phone: 406-582-1264
Toll-Free: 800-517-1031
Fax: 888-204-1256
Montana Office: 2020 Charlotte Street Bozeman, MT 59718
Arizona Office: 9664 E. Sidewinder Trail. Scottsdale, AZ 85262